26. September 2022 By Prabhupada News 2 Comments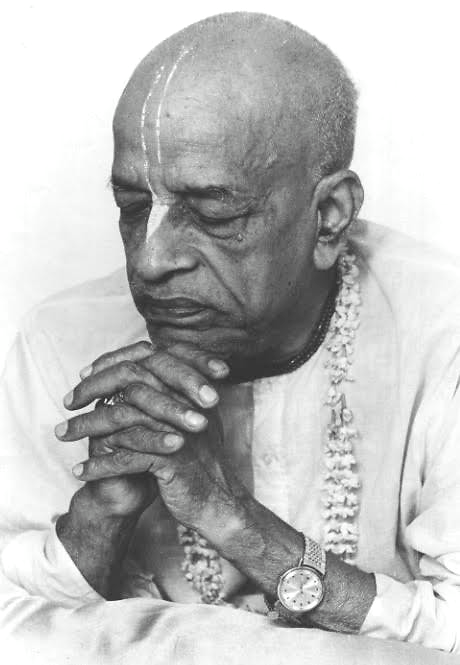 Srila Prabhupada – in a Class by Himself…?
By Swami B.G Narasingha
(The following article is from the book, 'Prabhupada Vijaya' a compendium of articles by Swami Narasingha about Srila Prabhupada)
When speaking of Srila Prabhupada, we sometimes hear the quote of Bhaktivinoda Thakura –"When thou art living still in sound," or that, 'Srila Prabhupada is living in his instructions' but this doesn't simply mean that he's living in so many gigabytes in the Bhaktivedanta Folio or that he is living in the pages of the beautifully hardbound books adorning our bookshelves.
If we want to experience that he is non-different from his instructions, then that necessitates that we must embrace the conception of Sri Caitanya Mahaprabhu. We cannot live without that conception and simply honour him in the form of paperbound books, folios, marble murtis and so forth. We will have to join him by joining in with that conception. If we give so much praise to him but we ourselves don't come to the proper conception of Gaudiya Vaisnavism, then that praise may do some good to us and to the people in general, but it does not do the highest type of good. It is like propagating namabhasa – what will namabhasa do? It will give freedom from material miseries, it will award liberation and it will defeat so many things. But all those results are a mere shadow of prema-bhakti. Propagating namabhasa pales in comparison to suddha-nama, the pure Name of Krsna. The pure Name of Krsna does not give liberation. The pure Name of Krsna gives one a taste of love of God. Even liberation is considered mundane in the face of krsna-prema.
We will have to come to the right conception. Many times our siksa-guru, Srila Sridhara Maharaja was asked the question, "How will we come to the right conception?" Many 'how' questions were asked, and he answered them by saying, "Guru, sadhu and sastra." By taking shelter of the lotus-feet of our spiritual master, by associating with saintly persons who themselves have that conception, and by studying the scriptures in light of that conception. Bhagavatam is not an alien literature to India, but who knows the meaning of Bhagavatam? Who understands the actual message of Bhagavatam? The followers of Ramanuja study Bhagavatam, the Tattvavadis at Udupi study Bhagavatam, the Vallabhas study Bhagavatam and even the Mayavadis study Bhagavatam, but Mahaprabhu has rejected all of them! Mahaprabhu recognised Sridhara Svami, the original commentator on Bhagavatam.
śrīdhara-svāmī-prasāde 'bhāgavata' jāni
jagad-guru śrīdhara-svāmī 'guru' kari' māni
"It is only by the mercy of Śrīdhara Svāmī that I understand the Bhāgavatam. Therefore, I accept jagat-guru Śrīdhara Svāmī as My spiritual master." (C.c. Antya-lila 7.133)
There is a line from Sridhara Svami through the Six Gosvamis to the Seventh Gosvami (Bhaktivinoda Thakura) and through Bhaktisiddhanta Sarasvati Thakura to those who live by their teachings at present – they understand Bhagavatam. Those persons should be our holy association. Guru, sadhu and sastra will help us come to the proper conception. Then we will have the merciful presence and grace of Srila Prabhupada.
It is sometimes said that, "Prabhupada is in a class by himself." In fact, these days it has become popular to praise Srila Prabhupada by saying this. But this is a misnomer. He is not in a class by himself – he is in the top class of the servants of the Lord, who live eternally in the Lord's company. He is not alone. A Mayavadi may say, "My guru is in a class by himself. Bliss is experienced alone!" They will eliminate everything and everyone. But we are not for elimination. 'A class by yourself' means you have been sentenced to hell for eternity. Ramananda Raya declared that to be without the devotees is the worst type of hell. [Read More…]
prabhupadanugas