28. July 2021 By Prabhupada News Leave a Comment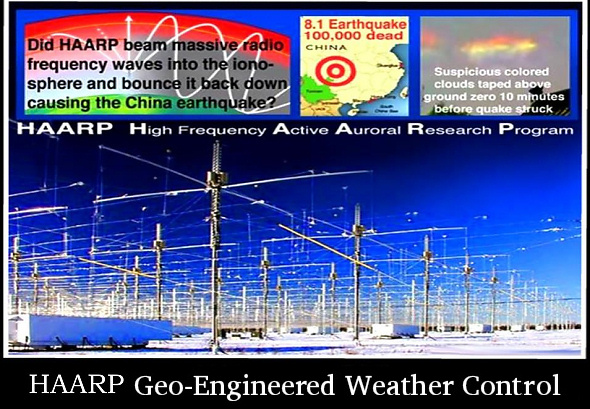 https://www.geoengineeringwatch.org/
Excessive Rain and Floods is caused by Geo-engineering.
Globally, the increase of severe weather hazards such as hailstorms, floods, typhoon etc.  is NOT caused by climate change (which is a myth) but by Geo-Engineering.
Chemtrails and HAARP are Being Used to Modify Weather on a global scale. There are 18 HAARP-Stations around the world, experimenting with weather-control. (https://youtu.be/a2x6TEeknfo)
Chem-trails are filled with toxic chemicals: nano particles aluminum, barium, strontium, lithium causing severe sickness, flu and exhaustion, asthma pneumonia, headaches and allergy, respiratory problems, even cancer. They create manmade clouds which reduce sunshine and can influence weather patterns by altering precipitation and solar UV-B radiation.
OUR WEATHER HAS BEEN ENGINEERING FOR OVER A DECADES
Changing the weather through artificial means has been done by man as far back as the early 1970s even in places like Russia. As far back as 1958, the chief White House advisor on weather modification back then, Captain Howard T. Orville, said the U.S. defense department was studying "ways to manipulate the charges of the earth and sky and so as to affect the weather". They tried using an electronic beam to ionize or de-ionize the atmosphere over a given area. Major scientific organizations are now admitting that there have been disastrous effects produced by these programs.
Elements being found in rain and soil tests are showing increased levels of the elements used in atmospheric chemtrail spraying. As a result, studies are showing that the nutrients that plants, animals and humans rely upon are being contaminated and reduced.
Aluminum, barium, copper sulphate, potassium iodide and strontium are emitted in these chemtrails. Investigations of US patents reveal that these are definitely the chemicals being sprayed to make cloud cover. Microscopic particles of those elements attract moisture in the air which condenses onto these particles. All these moisture laden particles are then heated up with radiation from the sun and even HAARP. [Read More…]
prabhupadanugas