27. September 2023 By Prabhupada News 1 Comment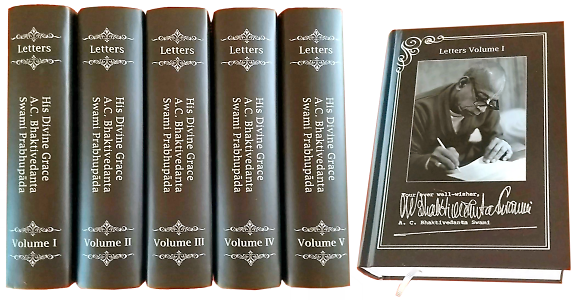 SRILA PRABHUPADA'S COLLECTED LETTERS – 5 Volumes
For many years the letters Śrīla Prabhupāda wrote to his disciples were hidden from the devotees but in 1987 some devotees got access to a microfiche copy of all of Prabhupāda's letters (which Sulocana Prabhu liberated from the hands of the disciples of Ravana) and they produced a limited edition [500 copies only] of five volumes containing all of Śrīla Prabhupāda's letters to his disciples.
NOW WE HAVE AVAILABLE THE SAME LETTERS AS PDF-BOOKS – FREE FOR DOWNLOAD
Śrīla Prabhupāda Letters (5 Volume Set)
The Vaiṣṇava Institute (1987), Hardcover
By reading Srila Prabhupada's personal Letter to his disciples, one is directly associating with Him through his Vani, feeling His presence in his words, thus being instructed and guided by Him personally. These Letters are invaluable for any aspiring Devotee of Kṛṣṇa.
You can freely Download these letters now:
Letters_from_Srila_Prabhupada-Vol.1_1947-1969.pdf
Letters_from_Srila_Prabhupada-Vol.2_1969-1970.pdf
Letters_from_Srila_Prabhupada-Vol.3_1970-1972.pdf
Letters_from_Srila_Prabhupada-Vol.4_1972-1975.pdf
Letters_from_Srila_Prabhupada-Vol.5_1975-1977.pdf
srila-prabhupada-letters-5-volume-set.epub
Download this Letters now and directly
associate with Srila Prabhupada through his Vani.
Reading these letters is a direct connection to the mind of Srila Prabhupada. Reading the mind of an ordinary man is generally not very inspiring, there being so many contaminated thoughts lurking up there. But the mind of Srila Prabhupada, because he is pure, can only help us to become pure ourselves. No doubt that is one of the reasons why Prabhupada wrote so many letters (7,000 recovered thus far) instead of using the telephone. There was no shortage of money, especially in the later years. His "big, big" disciples were using the phone almost exclusively (much to Prabhupada's displeasure), whereas Prabhupada would almost always write. He left us his own autobiography, as it is. [Read More…]
prabhupadanugas