18. November 2017 By Prabhupada News Leave a Comment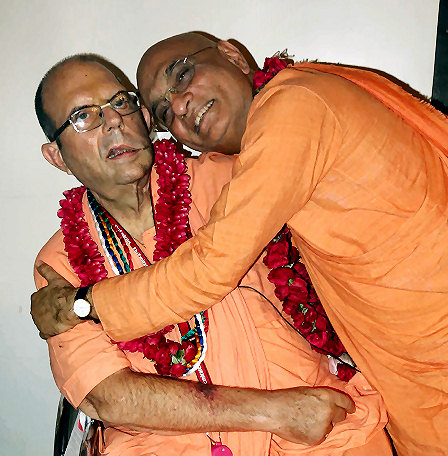 JAYAPATAKA ENDORSES SRILA PRABHUPADA'S POISONING
— two Poisoners comforting each other —
JAYAPATAKA_ENDORSES_PRABHUPADAS_POISONING.doc
JAYAPATAKA_ENDORSES_PRABHUPADAS_POISONING.pdf
JAYAPATAKA_ENDORSES_PRABHUPADAS_POISONING.html
CHAPTER 75:
JAYAPATAKA SWAMI
INTRODUCTION
Jayapataka Swami is one of the original eleven fraudulent successor "acharyas" who claimed that Srila Prabhupada had appointed them as the next initiating gurus for ISKCON. This was a BIG LIE, in which Jayapataka participated, and which was admitted by the GBC in 1990. This was not a simple misunderstanding; it was a conspiracy by senior men, including Jayapataka, to highjack the movement and install themselves as Srila Prabhupada's inheritors. See Book Two. This was a great fraud and spiritual crime for which Jayapataka has never made any explanation or apology.
Jayapataka is believed, at a high-level of certitude, to be involved in Srila Prabhupada's poisoning, suspected because of the evidence that implicates him, as well as his placement in the center of the unauthorized guru takeover of ISKCON.
If someone gets a share of the stolen money from a bank robbery, it is quite clear they were involved in the robbery, even though perhaps not amongst those who held up the tellers with guns. Jayapataka is a natural person of prime interest in Srila Prabhupada's poisoning.
JAYAPATAKA IDENTIFIED IN THE THIRD PRIMARY AND CERTIFIED "WHISPER"
Hansadutta, Bhavananda, and Jayapataka are in the room when the poison whispers take place. In one instance on the last conversation tapes, Jayapataka is heard speaking with Srila Prabhupada in the background, not as whispers, but in full voice which was faintly recorded on the tape, perhaps because the recorder was across the room. Forensic analysis has confirmed this whispered conversation in the background to be: [Read More…]
prabhupadanugas