12. December 2019 By Prabhupada News 2 Comments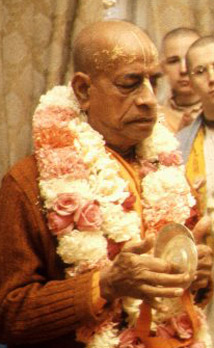 —– Forwarded message —–
From: Mahesh Raja <…@…>
To: Antardwip das <…@…>
Sent: Sunday, 1 December 2019, 20:52:26 GMT
Subject: Re: Ritvik System – system OF MANAGEMENT
Prabhus

All Glories to Srila Prabhupada!
Please accept my humble obeisances
Hare Krsna!
So – as you can ALL see now there is ZERO defence from Antardvipa Prabhu on the BOGUS CONDITIONED SOUL GURUS manufactured by ISKCON'S GBC by REPLACING the BONA FIDE Diksa Guru Srila Prabhupada and the Ritvik System as per his directive July 9th 1977 . Furthermore, the mantra received from those bogus gurus is USELESS—- and they take their followers to hell. They just want to make others their SLAVES and EXPLOIT them. They are OPPORTUNISTS:
760628bj.nv              Conversations
Pusta Krsna: Some of them will say some things that Krsna says, but they'll take from other places also. What is the position of such persons?
Prabhupada: HE'S MOST DANGEROUS. HE'S MOST DANGEROUS. HE IS OPPORTUNIST. He's finding out customer, something here… According to the customer he is giving something, as the customers will be pleased. So he is not guru.
+++++++++++++++++++++++++++++++++++

Devotee (3): In regard to worshiping arcā-vigraha form, you have explained that if one receives a mantra from a spiritual master who is not bona fide, that mantra has no effect. So I would like to ask if one is worshiping a Deity AND HIS SPIRITUAL MASTER IS NOT BONA FIDE, so that Deity cannot be considered the Supreme Lord?
Prabhupāda: WELL, FIRST OF ALL, THING IS IF THE SPIRITUAL MASTER IS NOT BONA FIDE, HOW HIS MANTRA CAN BE BONA FIDE? YOUR STATEMENT IS CONTRADICTORY. IF YOU SAY THE SPIRITUAL MASTER IS NOT BONA FIDE, THEN HOW HIS MANTRA BECOMES BONA FIDE? IF HE IS BONA FIDE, THEN HIS MANTRA IS BONA FIDE. [Read More…]
prabhupadanugas