21. June 2018 By Prabhupada News 3 Comments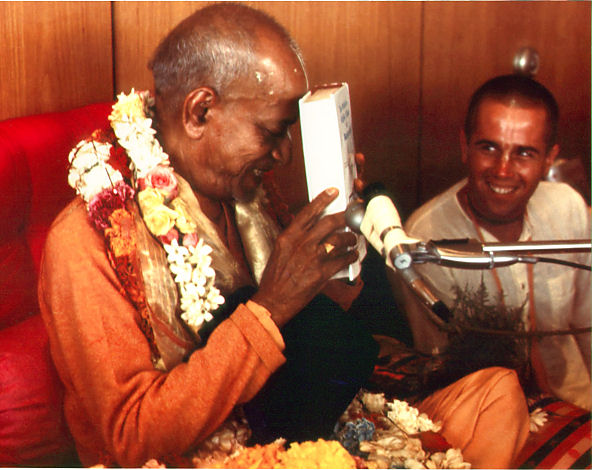 Photo: Srila Prabhupada honoring his 1972 edition of Bhagavad-gita As It Is
Reply To Purujit And Bliss Society, Spain
Re: Going Back To The Manuscript
BY: VIDURA MAHATMA DAS
JUNE 18, 2018
NOTE: Who is Purujit? – Purujit das (BLISS society, Spain) has edited his own version of the Bhagavad Gita As It Is, using the original manuscripts. There is a controversy going on, on this topic, whether the editing of Srila Prabhupada's books is bonafide.
Prabhupāda: I know that these rascals are doing. What can be done? How they can be relied on?
Prabhupāda: The nonsense, they are… They are correcting my trans… Rascal.

Above Image: Purujit's edited e-book version of the Bhagavad-gita As It Is
Recently a devotee named Purujit das has appeared in a video interview defending his new undertaking to edit some of Srila Prabhupada's books. The interview, which reads on their website "Purujit Prabhu Smashes PADA´s Book Editing Objections", is a 45-minute response to PADA, who challenged this maverick editing venture of Purujit's. In this article, key excerpts of Purujit's reply to PADA are addressed in connection with the legitimacy behind making further edits to Srila Prabhupada's books.
"BLISS is happy to announce on their website their editing of Srila Prabhuapda's books, which so far includes the Bhagavad-gita As It Is, Sri Isopanisad, and Easy Journey To Other Planets. Their website reads:
​the e-books of His Divine Grace A.C. Bhaktivedanta Swami Prabhupada edited by Purujit Dasa according to the original manuscripts, transcripts, lectures and articles."
Here is an example of the changes Purujit has made to the Gita:
"Just try to learn the truth by approaching a spiritual master. Inquire from him submissively and render service unto him. The self-realized master will initiate you by knowledge because he has seen the truth." (Purujit's version of Bg verse 4.34)
The 1972 Original Version:
"Just try to learn the truth by approaching a spiritual master. Inquire from him submissively and render service unto him. The self-realized soul can impart knowledge unto you because he has seen the truth."
Purujit has also added an awkward sentence to Srila Prabhupada's purport to that verse:
"Neither by self study of the book of knowledge can help one to progress in spiritual life." (Purujit)
Throughout this article, key excerpts of Purujit's words from the video will be indented with the author's comments interspersed.  [Read More…]
prabhupadanugas