14. August 2018 By Prabhupada News 1 Comment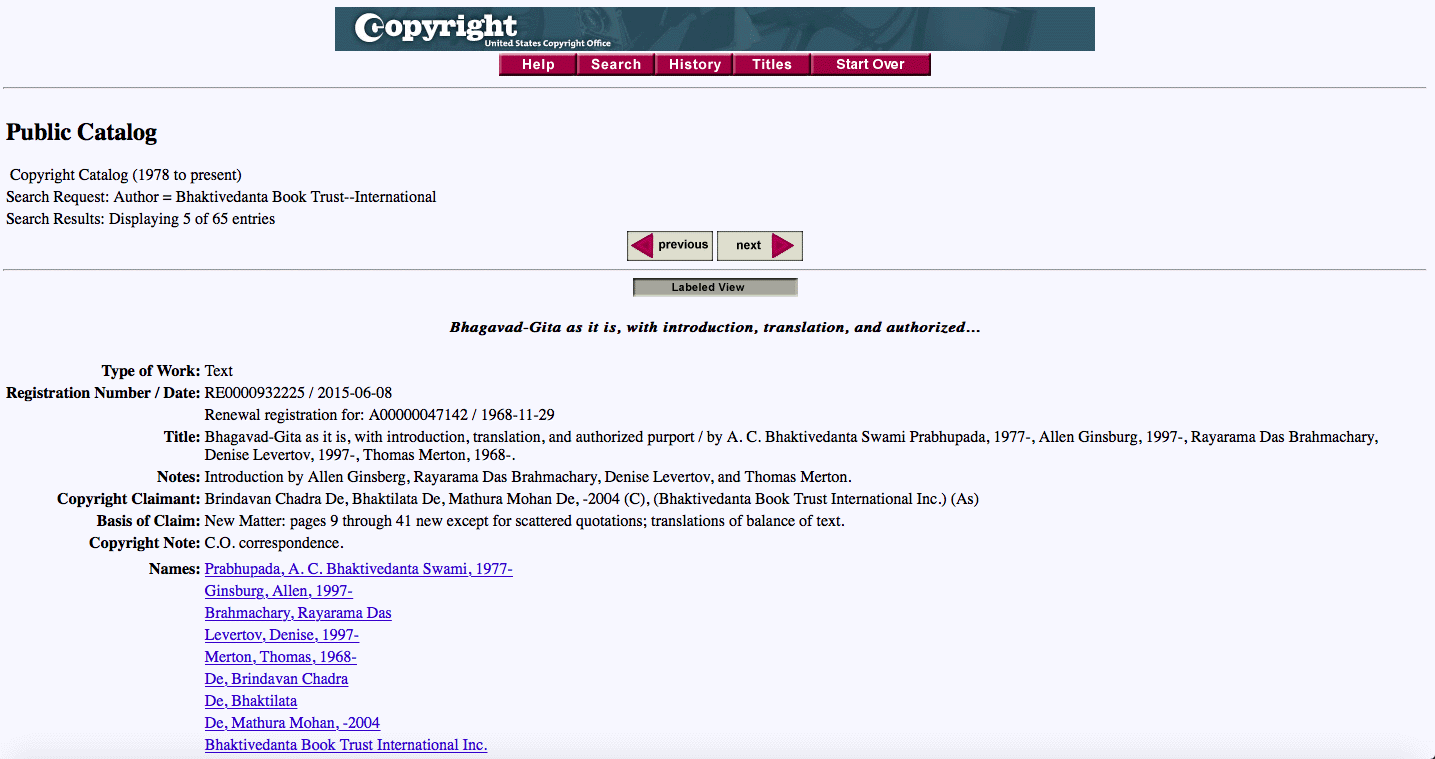 Screen Shot 2018-08-10 at 9.02.41 PM
Please click to enlarge
NEW LARGE-SCALE COPYRIGHT SCAM OF BBTi
ATTENTION ALL DEVOTEES WORLD WIDE – be aware there is a new large-scale SCAM of Gupta das together with BBTi to destroy Srila Prabhupadas original BBT, by trying again to have the copyrights transferred to the BBTi.
Gupta is already telling every one that he can no longer print original books, because he had to give up his printing licence to the De family (Prabhupadas family members) who allegedly claimed copyrights, which is, of course, total bullshit.
Gupta das (a paid BBTi agent) secretly works for the BBTi to undermine Srila Prabhupada's legally established BBT. Gupta and BBTi try to pull up a new court case in which to contest Srila Prabhupada's BBT.
The claimants in this planned court case are:
Copyright Claimant: Brindavan Chadra De, Bhaktilata De, Mathura Mohan De, -2004 (C), BBTi (Bhaktivcdanta Book Trust International Inc.) (As)
Basis of Claim: New Matter: pages 9 through 41 new except for scattered quotations; translations of balance 6f text:
Please see above United States Copyright Office Public Catalog.
This is a new scam of the BBTi along with Gupta das who secretly works with them.
We are asking all devotes to expose the Gupta/BBTi fraud and protect Srila Prabhupada's original BBT and original Books.
In the last court case of Gupta/Hansadutta/BBTi Iskcon gave the following statement:
—QUOTE—
The agreement reaffirms the validity of the Bhaktivedanta Book Trust formed by Srila Prabhupada on May 29, 1972. This was a legal California trust into which Srila Prabhupada conveyed the copyrights to his books. All sides agree that this trust is still legal and alive, and that it is the true owner of Srila Prabhupada's copyrights, as Srila Prabhupada desired.
—END QUOTE—
"reaffirms the validity of the Bhaktivedanta Book Trust" – So how can it suddenly be claimed by the De family, which is, of course, Guptas latest scam and bullshit.
We are asking all devotes to please help exposing these rascals scheming and butchering Srila Prabhupada's book for the sake of Money, Politics and Power Control.
Please carefully read below the latest article of VASTAVIKA DAS:
Dey Family Claims BBT Copyrights
BY: VASTAVIKA DAS 
Aug 12, 2018 — USA (SUN) —
On June 8, 2015, the ownership of the 60 titles of Srila Prabhupada's books published through 1977 were claimed by the Dey family – Prabhupada's sons and relatives. Also claiming the copyrights (of 65 titles) is the Bhaktivedanta Book Trust International. Hmmm. In 1998, a Los Angeles Superior Court probate judge ruled that the copyrights belonged to the Bhaktivedanta Book Trust – the original Trust established by His Divine Grace. Both the Dey family and the BBTI are now claiming those rights, but there is no court order removing the copyrights from the BBT.  [Read More…]
prabhupadanugas