1. December 2021 By Prabhupada News 2 Comments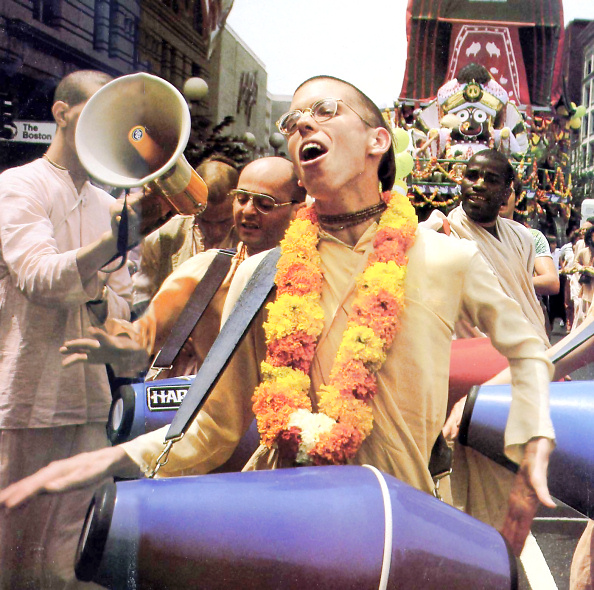 THE TRANSMISSION OF TRANSCENDENTAL SOUND
"So, God is speaking Bhagavad-gita. Just like reading, Krishna is speaking. So, hear it, God speaking, the sound. The devotees are chanting Hare Krishna, that is God, that sound is God, Sabda-brahma. This is the way. And if you want to see God, you can see also. – The real essence of sabda-brahma is the chanting of the Hare Krishna mantra. By vibrating this transcendental sound, the meaning of everything, both material and spiritual, is revealed."
The Transmission of Transcendental Sound
by Rakshana das
Jul 08, 2013 — AUSTRALIA (SUN)
The quotes contained in this paper are support for the efficacy of the many forms of transcendental sound vibration imparted by the spiritual master and the Lord, especially the vibration of pure Vedic scripture as spoken by Srila Prabhupada. They are not a challenge or alternative to the eternal principle of accepting a 'bona fide' spiritual master and surrendering unto him. Nor are they meant to obfuscate the potential for higher understanding and taste experienced in saintly association.
Unfortunately, devotees in some Gaudiya Vaisnava societies believe that transcendental sound cannot be fully potent unless the speaker is physically present within earshot. Of equal concern is the ISKCON strategy of creating ever-new imaginative directives aimed at corralling followers into subservient impotence.
Some of the quotes are well known to quite a few devotees, although repetition of transcendental knowledge is never redundant. These quotes are simply a window toward understanding the glorious variety of spiritual relationships sanctioned by the Lord, and an opportunity to admire the qualities of all genuine devotees, regardless of status of initiation.
What we have heard from the Spiritual Master, that is living."
Srila Prabhupada: "So although a physical body is not present, the vibration should be accepted as the presence of the Spiritual Master, vibration. What we have heard from the Spiritual Master, that is living."
Paramahamsa: My question is, a pure devotee, when he comments on Bhagavad-gita, someone who never sees him physically, but he just comes in contact with the commentary, explanation, is this the same thing?
Srila Prabhupada: "Yes, you can associate with Krishna by reading Bhagavad-gita. And these saintly persons, they have given their explanations, comments. So where is the difficulty?" (13 January, 1969, Lecture Los Angeles)
Such association with Krishna and the spiritual master should be association by vibration, not physical presence
"Some people complain that when they pray to God they do not feel His presence. We should know that this is due to our incapacities, not God's… The physical conception is temporary, whereas the vibrational conception is eternal. When we enjoy or relish the vibration of Krishna's teachings in Bhagavad-gita, or when we chant Hare Krishna, we should know that by those vibrations He is immediately present. He is absolute, and because of this His vibration is just as important as His physical presence… Such association with Krishna and the spiritual master should be association by vibration, not physical presence. That is real association. We put so much stress on seeing, but when Krishna was present on this earth, so many people saw Him and did not realise that He is God; so, what is the advantage of seeing? By seeing Krishna, we will not understand Him, but by listening carefully to His teachings, we can come to the platform of understanding. We can touch Krishna immediately by sound vibration; therefore, we should give more stress to the sound vibration of Krishna and of the spiritual master – then we'll feel happy and won't feel separation." (Elevation to Krishna Consciousness) [Read More…]
prabhupadanugas