26. December 2018 By Prabhupada News 2 Comments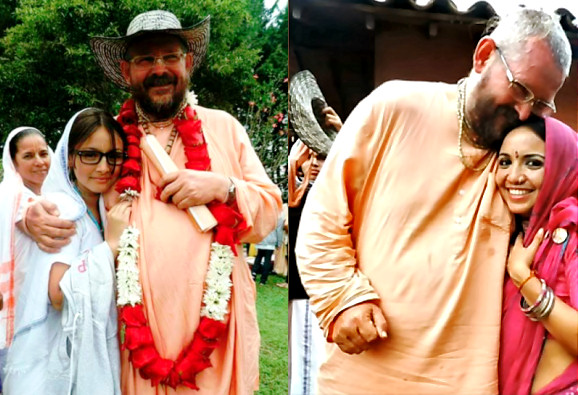 Paramadvaiti "Swami's" Night Massages With Girls – Did He Rape His Disciple?
Paramadvaiti "Swami" formerly Alanath alias Ulrich Harlan
Molester, false Sannyasi, bogus guru, cheater and pervert
… you caressed my breasts and buttocks inside the car
… While I was massaging him, he tried to bring my hand to his genitals repeatedly during the same massage
… I have also repeatedly witnessed inappropriate touching in the private parts of the body of other spiritual sisters, as in others, of themselves touching their genitals. 
Paramavaiti Swami (ULRICH HARLAN formerly ALANATH) is a "PERVERT "
and a "SEXUAL PREDATOR"??? One Girl committed suicide because of him.
English YouTube Video: https://www.youtube.com/watch?v=DdCmH2dPObg
Paramadvaiti "Swami" admits that he was massaged by girls in the night. That is already enough for him to be disqualified as a sannyasi and guru. For everything else "He says he doesn't remember".  (ha ha ha) Who would forget spending a night with beautiful girl? This happens when girls give massage to a sannyasi during the night, massaging his danda? You get in trouble.
https://lastingimpression.info/paramadvaiti-swamis-night-massages-with-girls/
In this video conversation it is clear that Paramadvaiti committed sexual abuse against one of his female disciples.
LETTER FROM A DEVOTE VIOLATED BY HER GURU
(witness account, translated from Spanish to English)
Thinking of my spiritual brothers who are sincere in their devotional process and it is not fair that in your meditation you are the means for them to connect with Krishna, I am writing this letter to you.
As Saranagati told her in the phone call in which she asked him about the undue touching that you did to me in Caracas, a woman abused by a father figure, she feels so confused and traumatized that she has a hard time understanding what she has done to her. For that reason, it took me a long time to be able to emotionally assume what he did to me and be able to confront him with the help of my closest spiritual brothers.
Eventually I understood better what happened in the temple of Caracas with me and other devotees and I could associate it with other similar events that occurred during our trips and stays in other temples.
In the 2016 Mela, you caressed my breasts and buttocks inside the car back from the trip to Matucana. In a couple of nights while two devotees massaged her before going to sleep, she first stroked our legs, breasts, buttocks, approached me and then untied my pants and tried to insert her finger into my vagina, which made me feel pain and immediately I stood up.
While I was massaging him, he tried to bring my hand to his genitals repeatedly during the same massage. Then he asked Jagannathesvari to bring him water, he sat next to me and asked me if I was a virgin, to which I answered yes. And he caressed me affectionately saying "my dear daughter" while touching my lower belly. When the devotee retired, you embraced me and began to run your tongue over my face when I was alone in the room, which confused me and disturbed me a lot, so I retired.  [Read More…]
prabhupadanugas